About the Book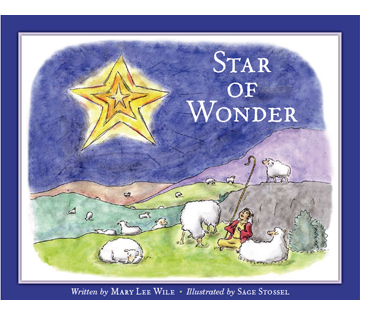 On a dark, cold night Jesse the young shepherd feels his heart warmed by the light of the biggest, brightest star he has ever seen, and the sky begins to sing.

Light and wonder fill Mary Lee Wile's retelling of the Nativity story and are reflected in whimsical watercolor illustrations by award-winning cartoonist Sage Stossel (Wile's niece), in this charming picture book that will touch the hearts and imaginations of readers of all ages. [Click to see larger cover image.]

See a video interview with Mary Lee Wile about Star of Wonder (by Heidi Shott of the Episcopal Diocese of Maine).

Order the book directly from the publisher, or from from Amazon.
* * * *
Star of Wonder invites children and their families to enter the joyful mystery of Epiphany through Jesse's story.

The suggested music, crafts, and activities offered at this companion Web site can help enhance your child's understanding of Epiphany—and can be a lot of fun for the whole family.

There's even a plan to put on a Festal Meal: a family meal that celebrates Epiphany with decorations and special foods that children can help prepare.

Those interested in learning more about Epiphany can check out Background, Legends, Art, and Traditions of the Season.